2022 Rally
Flxible Bus Rally - 2022
August 24 - 28, 2022
Loudonville, Ohio  **  Mohican Adventures Campground
www.flxibleowners.org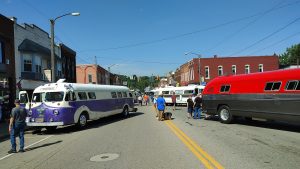 Flxible Owners International
Invites ALL BUS & CAMPER ENTHUSIASTS to our Bi-Annual
 Flxible Bus Rally
Loudonville, Ohio
August 24-28, 2022
Flxible Bus Rally bringing it back to the home of the Original Motor Coach
Loudonville, OH –
The City and people of Loudonville have devoted much of their history to Flxible buses and a number of the local businesses have really stepped up to the plate to offer sponsorships and donations in-kind to make the Flxible Bus Rally a remarkable event while helping us to keep the costs down for our Rally attendees. We think it only appropriate to showcase to the public and Loudonville community these amazing marvels of engineering. Thus, we have made arrangements with the Mayor of Loudonville, City Council, and the Ohio Dept of Transportation to make the Bus Parade bigger and better than ever before!!

This event is open to all Bus Conversions, RVs, Campers, and anyone who has a passion for sharing in the joy of historic Flxible Buses – come one, come all!!
What you need to know and do:
REGISTER - complete the registration form and send this, along with your non-refundable registration fees to: (make checks payable to Michele Hulet)
Michele Hulet
15763 Lake Michigan Drive
West Olive, MI 49460
LODGING/CAMPSITES - Reserve your camping site online at Mohican
Adventures www.mohicanadventures.com 1-888-909-7400
**mention you are part of the Flxible Bus Rally to get the discounted rate**
sites 11-66 are reserved for our group full hook up sites $35/night (includes first 2 adults)
+$10/night addt'l guests ages 16+
+$5/night addt'l guests ages 4-15
• Rally Registered Individuals & Visitors will be allowed to enter Mohican Adventures for free although they will be required to sign in and receive a pass at the campground office. Landoll's Castle https://landollsmohicancastle.com/
10 minutes away from Mohican Adventures, site of the Castle Tour and lunch on Thursday afternoon (separate fee) 10% discount on rooms – mention code: Flxible
Blackfork Marken Inn https://www.blackforkmarkeninn.com/
B&B located in downtown Loudonville
10% discount on rooms – mention Flxible Bus group
Flxible Buses have been memorialized on the logo of the Family Motor Coach Association as many view Flxible buses to be amongst the original motor coaches. FOI is an organization focused on all things Flxible Bus related, maintains a Flxible bus Facebook page, website, and publishes a Flxible newsletter throughout the year.  Flxible buses were manufactured in Loudonville, Ohio beginning in 1913 and until the closing of the company in 1996.
For information and registration forms for the 2022 Flxible Bus Rally please visit the Flxible Owners International Facebook page.
To contact Michele Hulet, 2022 Flxible Bus Rally Planning Committee Chair feel free to contact us via mhulet321@gmail.com.
-FOI-
Location of the FLXIBLE rally is at Mohican Adventures:
You have to make camping reservations separate from Rally, contact Mohican Adventures, Tell them you are with Flxible Rally, see website below.
www.mohicanadventures.com