Flxible Bus Rally - 2021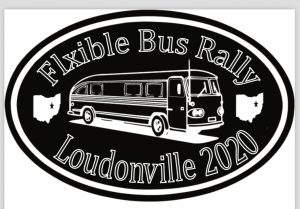 August 25 - 30, 2021
Loudonville, Ohio  **  Mohican Adventures Campground
www.flxibleowners.org
Flxible Owners International
Invites ALL BUS & CAMPER ENTHUSIASTS to our Bi-Annual
 Flxible Bus Rally
Loudonville, Ohio
August 25-30, 2021
Flxible Bus Rally bringing it back to the home of the Original Motor Coach
Loudonville, OH –
The City and people of Loudonville have devoted much of their history to Flxible buses and a number of the local businesses have really stepped up to the plate to offer sponsorships and donations in-kind to make the Flxible Bus Rally a remarkable event while helping us to keep the costs down for our Rally attendees. We think it only appropriate to showcase to the public and Loudonville community these amazing marvels of engineering. Thus, we have made arrangements with the Mayor of Loudonville, City Council, and the Ohio Dept of Transportation to make the Bus Parade bigger and better than ever before!!
Saturday's Bus Parade will include a live DJ and announcer, public voting for Bus Awards, 50/50 raffle and a 2-hour viewing of the Flxible buses in downtown Loudonville. The buses will park in the middle of Main Street while the street is blocked off during this time. This
will afford the Rally participants a unique opportunity to showcase their buses, tour downtown Loudonville, patronize local stores – many are sponsors of the Flxible 2021 Rally, grab lunch/coffee/ice cream, etc. There will be two food trucks (Exclusively Yours Catering and Grant's Guac & Roll) also stationed in downtown for additional food options. A gracious donor has arranged for a 70'x3' sign to be hung over Loudonville's Main Street for 3 weeks leading up to the Bus Parade to increase public awareness of this first-ever event.
Bus owners are not required to allow the public to enter their buses during this time but are encouraged to let folks take a step inside/quick peek of their bus – it might increase your chances of being voted People's Choice Award and taking home the BIG TROPHY!!
** Please provide a narrative about your bus: year, make, model, paint colors (this will help the announcer identify which bus he is reading about), where and who you purchased your bus from, where the bus lives now, what it was originally used for, any upgrades/restorations, fun facts, adventurous/humorous travels, anything else fun and interesting about your bus
– this will be read aloud and announced by the MC during the Bus Parade
– the more interesting and intriguing, the more likely people are to vote for YOUR BUS!!!!
– provide this narrative in an email to briansantin@gmail.com

This event is open to all Bus Conversions, RVs, Campers, and anyone who has a passion for sharing in the joy of historic Flxible Buses – come one, come all!!
What you need to know and do:
REGISTER - complete the registration form and send this, along with your non-refundable registration fees to: (make checks payable to Brian Santin)
Brian & Crystal Santin
630 W Main Street Suite 200
Wilmington, OH 45177
LODGING/CAMPSITES - Reserve your camping site online at Mohican
Adventures www.mohicanadventures.com 1-888-909-7400
**mention you are part of the Flxible Bus Rally to get the discounted rate**
sites 11-66 are reserved for our group full hook up sites $35/night (includes first 2 adults)
+$10/night addt'l guests ages 16+
+$5/night addt'l guests ages 4-15
*if you intend to participate in the Mohican Adventures activities on Wednesday afternoon (schedule/pay for these on your own), you will want
to arrive on Tuesday, Aug 25 (camp site discounted rates still apply to early arrivers)
If you are not traveling by bus and/or need local accommodations, we have
arranged for special discounted rates at the following locations:
• Rally Registered Individuals & Visitors will be allowed to enter Mohican Adventures for free although they will be required to sign in and receive a pass at the campground office. Landoll's Castle https://landollsmohicancastle.com/
10 minutes away from Mohican Adventures, site of the Castle Tour and lunch on Thursday afternoon (separate fee) 10% discount on rooms – mention code: Flxible
Blackfork Marken Inn https://www.blackforkmarkeninn.com/
B&B located in downtown Loudonville
10% discount on rooms – mention Flxible Bus group
MEALS – in an effort to provide a more diverse meal plan and offerings we are pleased to have lined up the following:
Coffee and Donuts will be provided each morning in the Campground Conference Center
Wednesday Dinner – there will be a local food truck on site for our rally attendees
(meal purchase on your own at the food truck)
Thursday: Lunch at the Copper Mug Restaurant – included with Landoll's Castle Tour Pasta buffet - meatballs, grilled chicken breast, alfredo and marinara sauces, garlic toast, farmers market display, and a salad: BBQ Dinner (separate fee) 1/4 bbq chicken, 3/4lb ribs, corn on the cob, baked potato, cole slaw, rolls & butter
Friday: Lunch at City Grille following Ohio State Reformatory Tour – pay your own: Dinner Potluck at Mohican Adventures (bring a dish to serve 8 & your own table service)
Saturday: Lunch on own in downtown Loudonville (food trucks will be present too!): Dinner Dutch Valley (separate fee) Amish prepared meal: baked chicken, roast beef, Amish noodles, green beans, salad, bread, desserts
EVENTS - Included with your Registration Fees:
1. Neighborly Campfires - every night (wed-sat), complimentary refreshments, bring a chair and get to know your fellow Bus Nuts around a campfire o firewood donated by: NWH Northwest Hardwoods
2. Friday's Potluck Dinner – a Flxible Bus Rally classic event, always more food than you can shake a stick at! Drinks will be provided.
3. Thursday evening Live Entertainment – a local duo will perform classics from Jim Croce, James Taylor, John Denver, and the like!
4. Daily coffee and donuts – sponsored by and
5. Friday Ice Cream Social – sponsored by STELA's Ice Cream Shoppe
6. Flxible Bus Trivia – so you think you know about Flxible buses?! See if you can beat fellow bus nuts on the trivia game designed just for YOU!!!!
7. Swap Meet/Meet-n-Greet/Book Swap on Friday afternoon – be sure to bring any unused/extra bus parts, books – bus related or not, or other interesting items folks may consider bartering/trading for – who knows you might make a buck and a new friend!
8. Ask the Expert / Panel Discussion – we have arranged for expert bus nuts/mechanics to discuss various aspects of working on Flxible buses  including those who have done complete bus repowers, restorations, and their fair share of tinkering on buses in general.
9. Ten raffle tickets (per bus registration) for Saturday Night Prize Raffle – we've already begun lining up plenty of fantastic prizes, including Bus Conversion Magazine subscriptions!!!
10.Outdoor Movie Night – Come enjoy fresh popped popcorn and a classic bus-themed movie on the big screen! Weather permitting, this event maybe relocated inside the conference hall.
11.Historic Flxible Bus display at the Loudonville Library West entrance
Mon-Thur 10-9pm Fri-Sat 10-6pm
12.Flxible Bus Rally, Loudonville 2020 magnet (one per registration) – sure to be a sought- after piece of memorabilia!!!
13.Flxible Bus Rally, Loudonville, Ohio custom sticker and goodie bag!
14.Flxible Owners International bi-annual meeting. This event is for FOI members only – if you aren't a member and want to take part & get all of the discounted rates for the Rally – simply JOIN for ONLY $20 for 2 years!!! If you might be interested in being more involved and would like to know more about the officer positions which will be elected during the meeting – we will have a designated time to explain all of this during the Potluck Dinner on Thursday evening – we'd be lucky to have you help out!!
15.Flxible Bus Awards – we'll be taking nominations and voting for
a variety of awards including Oldest Bus, People's Choice, Came
from Farthest Away, Newest Bus, Best Restoration, Best Repower,
and Took the Longest to Restore!
Flxible Buses have been memorialized on the logo of the Family Motor Coach Association as many view Flxible buses to be amongst the original motor coaches. FOI is an organization focused on all things Flxible Bus related, maintains a Flxible bus Facebook page, website, and publishes a Flxible newsletter throughout the year.  Flxible buses were manufactured in Loudonville, Ohio beginning in 1913 and until the closing of the company in 1996.
For information and registration forms for the 2021 Flxible Bus Rally please visit the Flxible Owners International Facebook page.
To contact Brian Santin, 2021 Flxible Bus Rally Planning Committee Chair feel free to contact him via briansantin@gmail.com.
-FOI-
Location of the FLXIBLE rally is at Mohican Adventures:
You have to make camping reservations separate from Rally, contact Mohican Adventures, Tell them you are with Flxible Rally, see website below.
www.mohicanadventures.com