1988 Flxible Metro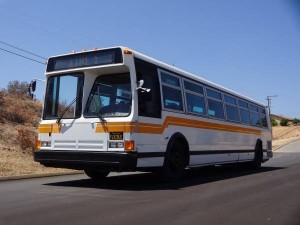 1988 Flxible Metro
Location: Burbank, CA 91505
Description:
1988 Flxible Metro which has been gutted and
partially converted into a motorhome.  Finish the job with your
vision.
I bought it in South Dakota in May of last year and drove it back to
Los Angeles in 2 days via South Dakota, Wyoming, Utah and Nevada. 1300
miles with no problems. The air bags and all fluids were changed prior
to his purchase. I replaced the 12 volt alternator and belt earlier
this year as well as all new taillight, turn signals and clearance
light lenses.
The previous owner bought it from MTA in 2002 and drove it to South
Dakota and removed the seats and created the framework for a
motorhome. Two sets of counter tops and cabinets have been installed
as well as framework for beds in the back of the bus. Interior
lighting and AC ductwork in the bus has been removed in preparation
for motorhome completion.
Enclosed are links of a youtube video taken 2 weeks ago of the bus
running and driving, as well as the Craigslist ad that has even more
details about the bus.
https://www.youtube.com/watch?v=b_HtwbUrEfM
https://orangecounty.craigslist.org/cto/5685973389.html
Asking Price: $7,500
Contact:
Adrian Mandese
(323) 251-4508
MetroAdrian@gmail.com
Additional Photos