1948 Clipper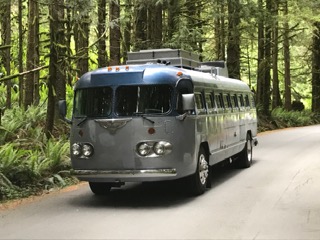 1948 Clipper
Location: Langford, British Columbia V9B4Z6
Description:

Overall Specs:
- Flxible description 1987-88 8.2 litre Detroit Diesel turbo
- V-8 four stroke
- 90,000 km (56,000 miles) on this motor that went in new in 87-88
- Four speed automatic Allison Transmission
- Model AT 545
- 200 hrs on this transmission
- New brakes and tires 6000 miles ago
- Six Michelin tires 10R 22.5
- Drub brakes front and back all on air
- New exhaust system 4 yrs ago
Interior Specs:
- The interior is warm and welcoming having the feel of a fine crafted yacht. It sleeps four quite comfortably; it works great for a couple and is over the top for just the captain.
- All the windows slide and open easily, and are new from the originals, and I have some extra glass should one be needed.
- There is a three burner propane stove, stainless steel sink with Moen faucets.
- A new dometic three way fridge and freezer, put in two yrs ago, that is very efficient. There is also a convection micro oven.
- The head is set up for shower, toilet, and small vanity, with a small basin and faucet.
- Lots of storage spaces inside the coach, drawers, shelving, and little hiding spots everywhere.
- There is a small Coleman stainless steel wood stove that functions well if so desired, or it can be removed in a few minutes and replaced with cushions that fit the space.
Dimensions:
Ceiling height is 6.3 ft
Isle width is around 30 inches
It's feels roomy and open with an efficient layout design
Extra Details:
- All the lighting works well, with most bulbs switched to LED
- There is a lovely piece of art on the interior entry door - a radiant sunshine.
- It has ambiance and charm, and smells good from yrs of hand rubbing danish oil into the wood.
- Three of the cushions were replaced last year.
- There is an aluminum storage box on top of the bus, as well as an aluminum ladder that attaches to the side for easy access.
- The wheels are very polished aluminum.
- Lots of storage in the back compartment of the bus.
Needs:
- She is in need some bodywork but the process got started this year with a new propane hatch door and a new rebuilt back door. Many body men have looked at this bus and have determined that this is all very doable because it's riveted and can be done one panel at a time.
Extra Inclusions:
- Two 2 inch receivers, one in front and one in the back.
- A motor cycle rack that I carried a 350 dirt bike down into Mexico.
- A bike racks that carries 4 bikes that can be carried front or back.
- A brand new set of winter chains.
- New fresh water storage tank that went in two yrs ago
- Outside storage racks for levelling boards.
- Four tire covers to fit
- There is an awning that is in excellent shape, although the vinyl will need replacing in the next year or so. I have a brand new replacement vinyl that comes with it.
Asking Price: $85,000 CAD (serious inquiries only please)
Contact:
Don Ewing
250-213-1322
wde009@gmail.com