1947 Clipper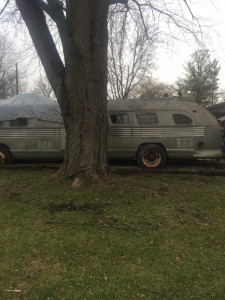 1947 Flxible
Location: Anderson, Indiana 46017
Description:
Bus was converted to motorhome in 1980.
Needs refurbished.
Has two tables with seats that convert into beds in front kitchen.
Bathroom
Closet
A large u shaped seating area in rear that huge bed.
Has awning.
Air
Carpet on floor.
Time for redecorating and some repair.
Does not run we have never tried.
Was told ran only needed carb when we bought in 2010.
We bought a diesel pusher bus for the engine.
My husband got sick and she has just been sitting waiting for tlc.
We have 6500 invested in all.
Text and i will send you pictures from my phone.
Asking Price: $6,500
Contact:
Mary Lamper
(765) 623-0048
mrmshank@aol.com