1955 Flxible VL-100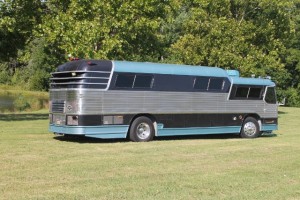 1955 Flxible VL-100
Location: Sturgeon County, Alberta T8T0B7
Description:

BEAUTIFUL CLASSIC COACH
Rare 1955 Flxible VL-100 Motorhome/Bus
This Flxible is one of a kind. It is #102 of 220 built. There are apparently only 10 of these classic buses on the road today. Elvis Presley even owned one of these classic buses! This bus would be great for the classic car enthusiast who wants to pull a car trailer to the shows-you would be the hit of the event in your classic motorhome and car! We have taken the bus to many car shows and it attracts as much attention as the classic cars. There is a line-up to get into see the bus! The bus is a fully functioning motorhome (and is currently registered as a motorhome). We have also used the bus to transport wedding parties- a classic ride for the bride and groom.
This Flxible has been been professionally appraised at over $125,000.00 US
The coach is powered by a 350 HP Detroit Turbo Diesel 6V-92 with 40K on the engine (since new, not rebuilt). It has a 4 speed Allison transmission and power steering. The batteries and tires are new. The back suspension is also new. This Flxible is a blast to drive and cruises comfortably at 70 miles an hour. The bus has a 10 KW Yanmar diesel generator, roof and basement air. The bus has Dupont Imiron paint and retains the factory lines and trim that it left the factory with.
The interior of the bus is a work of art. The bus has been redone in birds eye maple and black walnut by a master carpenter- it took him two years to complete; the pictures don\'t do it justice-it is truly beautiful inside. The bus sleeps 4. There is a redone shower, electric \'fridge, microwave, flat screen TV and is bi-level. You can even look out at the stars through the many skylights! It is tastefully decorated.
We are going in a different direction and regretfully have to sell our baby. Please email for more photos and details.
Asking Price: $75,000
Contact:
Pat Zaplachinski
(780) 717-2800
patzzzap@shaw.ca